Glass on the Fly
On Flat Glass Video



Step by Step Instructions




Glass on the Fly
On Acrylic Video






Latex Dip Video


Step by Step Instructions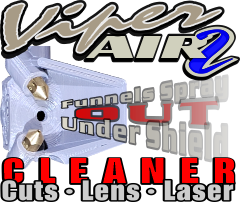 The shield is 5mm above your material
when set with the kickstand/height gauge .
You can make a simple tool to set the height anytime you need to.
This is only for those rare, occasional times that you do forget to focus.

If you like to De-Tune your laser, you can make a tool the height you want
and avoid all the guess work each time you focus your laser.